Synopsis
"You'll shed a tear or two, possibly more" - The Guardian
Older Than Ireland is a landmark documentary that tells the story of a hundred years of a life as seen through the eyes of thirty Irish centenarians.
The film was one of the most successful Irish documentaries of all time in terms of domestic and international box office having played theatrically in multiple territories including: Ireland, UK, USA, Canada, Australia and New Zealand.
The film won various awards including Best Documentary at Galway Film Fleadh, The Irish Times Ticket Awards, the Director's Choice Award at the Boston Irish Film Festival and was nominated for two Irish Film and Television Academy Awards (IFTAs), including the Rising Star Award for Alex Fegan.
The film was also uniquely invited to play twice in the National Gallery of Ireland.
Directed by Alex Fegan
Funded by Screen Ireland
Film Credits
Starring:
Winnifred Anderson
Bridget Aspell
More Information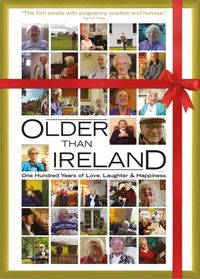 Rating:
12A
Suitable for 12 years and over
Films classified 12A and video works classified 12 contain material that is not generally suitable for children aged under 12. No one younger than 12 may see a 12A film in a cinema unless accompanied by an adult. Adults planning to take a child under 12 to view a 12A film should consider whether the film is suitable for that child. To help them decide, we recommend that they check the Ratings info for that film in advance. No one younger than 12 may rent or buy a 12 rated video work.